The Sleepy Special Edition Australian Shepherd 5-Panel Cap
Longtime friend and ambassador Scott Stevens teamed up with us to build a signature cap featuring his BFFs, Australian Shepherds Oak and Maddie. Coal and Scott Stevens are proud to support the ASPCA, a non-profit dedicated to preventing cruelty to animals.

For this special ediiton cap, we built an all-new silhouette from the ground up with comfort and breathability in mind. The result is a structureless 5-panel built from lightweight stretch polyester that's UPF 50+ rated for protection from the sun. With a custom Aussie patch at front and adjustable nylon strapback webbing closure.
Unstructured, 5-panel hat style cap for a fitted, relaxed look.

Made of a UPF 50+ rated sun protection lightweight stretch polyester.

Flat brim floats in water, moisture wicking sweatband inside.

Features high detail Aussie patches at front.

Adjustable strapback closure at back, one size fits most.
Free Shipping For Over

$49.00

to the US.
Customer Reviews
Write a Review
Ask a Question
11/05/2020
Jackson C.

United States
Beauty
Ive never had a hat where people go out if their way to look at whats on it then laugh and say they love it. This hat is a beauty
10/27/2020
Sierra S.

United States
Perfection
This hat is so comfortable and lets me express the crazy inner dog mom I am at heart. Worn it everyday since purchase!
09/16/2020
Rob G.

United States
Coolest Hat I've Owned
This hat rocks. Super light and comfortable, bill seems like it springs back to shape nicely. The fit is on point and the unstructured style is just what I was hoping for. But let's be real, the best part of this hat are the aussies. Honestly bought it just for them and the hat turned out to be great too.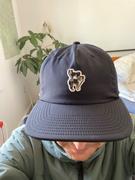 08/13/2020
JZ
Jeffrey Z.

United States
The Sleepy Aussie Special
I've been wearing this hat (in black) for the past couple of weeks, and so far I'm pleased with it. I own one other hat by Coal, The Junior, (which I love), so I'll compare The Sleepy Special Aussie Shepard 5-panel to The Junior in this review. Short version: Good hat. Get it. Long version: 1) The bill of the hat is made from a more bendy/less stiff material than a normal cap and doesn't really hold a shape. For that matter, the rest of the cap is pretty thin and doesn't really hold a shape either. Neither of these aspects are a problem for me. I like the bill because the material makes the hat a bit lighter weight and it still looks great while being worn. 2) The description says that the hat is made from a "breathable" fabric. The hat is 100% synthetic fiber, so perhaps the material is more breathable than other polyesters, but it is noticeably warmer than The Junior, for example. The hat looks great, and is a good aesthetic direction for Coal, IMO. The fabric appearance has a slight polyester sheen to it, so it appears a bit satin rather than matte, which looks cool to me. The size of the hat feels a touch roomier than The Junior without being boxy, which I think aids with ventilation and comfort. (The Junior is an excellent fitting cap, and this one's similar). And the minimalist Aussie Shepard patch is cute, because Aussie Shepards. I recommend this hat!
08/11/2020
Scott R.

United States
Rad hat
Got this hat to replace one I lost on my motorcycle. I love that you can stuff it in your vest or bag and not worry about it actually looking like you sat on it when you put it back in. Super comfortable. 10/10.
07/20/2020
Kellen W.

United States
Scott Stevens knows what he's doing
This hat is awesome fits really well probably my second favorite Coal cap. I liked it so much that I bought the other color too.
04/30/2020
Tyler C.

United States
Australian Shepard 5 panel
Once this hat graces your head you feel like a million dollars. Plus it has 2 of the coolest dogs on the planet, so you really can't lose buying this thing.
04/22/2020
PG
Philip G.

United States
The Perfect Summer Hat
I absolutely love this hat. It's lightweight, comfy and is bright enough that people know it's me from a mile away. Plus it matches my dog. Definitely recommend!
02/02/2020
Jonathan C.

United States
The Best
This hat is perfect. Great material, soft on the forehead, comfortable, looks like a low crown hat but fits my head properly. A lot of low profile hats ride really high on my head. The best part is the material, it's so soft and when I cycle in other hats they tend to get itchy on my forehead, this doesn't! I wish coal would make this exact hat with other design options, I would own several.
Best hat with the best graphic.
Fell in love with this hat when it was first released but wasn't able to get my hands on it until now! So stoked with it, it's super comfy and is made of very easy-to-clean material which is a huge plus! Thanks Coal and thanks Scott for doing this rad collab. (I have two aussies at home, so they love the hat too)